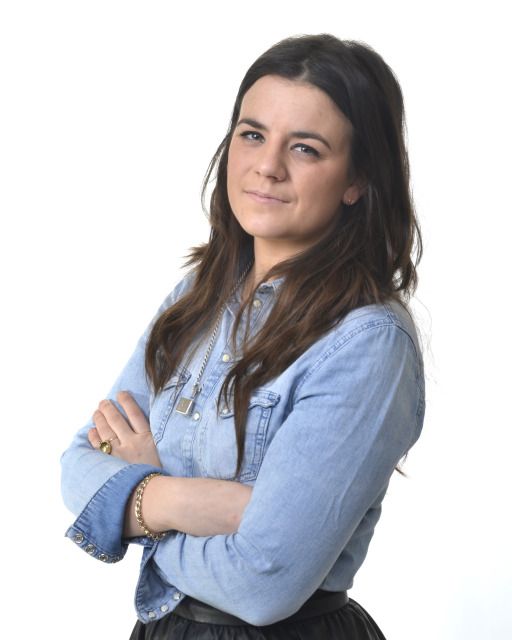 The second installment of The Insider comes courtesy of cashmere designer
Rosie Sugden
. She launched her eponymous line just last year with a beautiful collection of traditional tartans mixed in with lumo pink beanies and mittens, and knitted turbans which have since found their way into every magazine worth reading. Her second season is to be stocked (amongst others) in Matches and Liberty in London, Henri Bendel in New York and at
lovehats.com
as well as on her own website
rosiesugden.com
.
----
Current title: Director of Rosie Sugden Scottish Cashmere

First job: My first ever job? I was a shop assistant at Johnstons of Elgin when I was 14. After that I worked at Brora on and off from aged 15-22, interned at Christopher Kane and Walpole British Luxury. I suppose my first proper job is the one I have created for myself now within my own business.

Your first fashion inspiration: Probably Stella McCartney's horse printed collection at Chloe which was modelled by Kate Moss and Liberty Ross in Vogue. I love horses, I loved that collection and subsequently after it I loved anything Stella created - especially those banana print tops at Chloe.
The moment you knew fashion was your future: I remember watching a documentary about Stella McCartney (there's a re-occurring theme here) which followed her from her degree show to her first job in Paris and I was completely hooked. I recorded it on VHS and watched it over over again plotting my move to Paris... which actually never happened! I loved how cool and nonchalant she and Phoebe Philo were - they were best mates just having a great time designing clothes they loved. I thought they were the bees knees.
Any moments of doubt:
Definitely, after I graduated I felt a bit lost and I couldn't get a job. I was applying for internships and jobs and not even hearing anything back. So I decided to take the plunge and start my own business.
Career highlight (so far):
So many in the past 6 months since I started my business, hard to choose. Probably when Harriet Quick put a piece about my business on the VOGUE blog. Any piece of press whether online or in a magazine always makes me really chuffed. Other than that I think some of my first sales on my website, and also now that I am wholesale-ing my collection knowing it will be stocked in some fantastic stores with great exposure for my brand is hugely exciting.
Fashion world fodder (a favourite anecdote from your years in the trade):
An editor of a high profile fashion/society magazine (take a guess) came into Brora and was so very, very rude and dismissive to me I will never forget it... FYI See my next answer about manners. It doesn't cost anything to just be polite to people!
Survival tips:
Be Patient, Polite and Persistent. That's my mantra.
If you are polite then you will go so much further than someone with no manners, it also makes it easier for you to put yourself out there and just write to anyone for a favour or to introduce yourself. So long as you are polite you have nothing to lose. Be persistent, if you want to be noticed sometimes you have to put something right under the end of an editors or buyers nose.
Patience is important too as nothing happens over-night and in the fashion world things do take time. Editors and buyers alike will take all the time they need to decide whether they think a product is right you just have to rest assured they will make a decision and until they do just get on with something else.