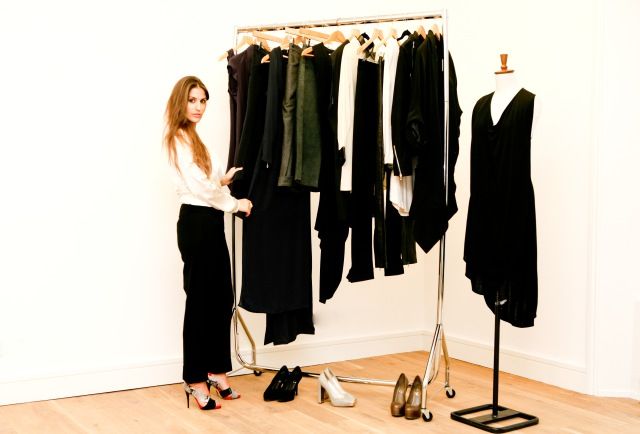 This week's Insider is by fashion entrepreneur Lian Michelson, the founder of
up and coming retail website
THEN AND NOW, where you can buy
emerging and established designers as well as past collections at discounts up to 70% off RRP
. Once a City banker, working at Morgan Stanley as an Interest Rates Trader for 5 years, Lian left to follow her true passion, setting up THEN AND NOW in 2011.
Current title: Founder and Director of Then and Now Ltd
First job: My first ever job was selling used jeans in a shop in Camden Town. I came in to sell some of my old jeans but got hired instead.
Your first fashion inspiration: Madonna's pointy bra by Jean Paul Gaultier that she wore on her tour in 1990. I was very young at the time but that definitely made an impact.
The moment you knew fashion was your future:
I've been addicted to online shopping for many years now, but finally decided to start my own online fashion site during my last job. I was working as a trader for a big investment bank, which meant I sat in front of five computer screens for many hours, everyday. Given my addiction, I had to shop while at work occasionally, and noticed how interested my colleagues were in the sites I was browsing through, especially the discounted designer ones, although most of my colleagues were men. I realised there was still a gap to fill in discounted online men's fashion, and decided that I wanted to launch a site that fills that gap.
Any moments of doubt:
I do miss my last job every so often, but nothing beats the satisfaction of seeing the business that you created grow.
Career highlight (so far): I get excited every time we get a new brand on board and every time we make a sale, so lots of highlights so far!
Fashion world fodder (a favourite anecdote from your years in the trade):
Before the site launched, I went to meet a designer in his studio, during London Fashion Week model casting. I found it quite funny that out of politeness they asked to see my book (I am not exactly tall), and made me stand in the corner of the studio for 20 minutes before they realised I was there for a scheduled meeting. You've got to love the fashion world.
Survival tips:
Be persistent and don't be scared of failure, but k
now when to push and when to let go.
Choose carefully which advice you take and which criticism you ignore, but pay attention to both. Seize any opportunity and meeting that comes your way, one will eventually pay off. Finally, make time for yourself, life's too short.