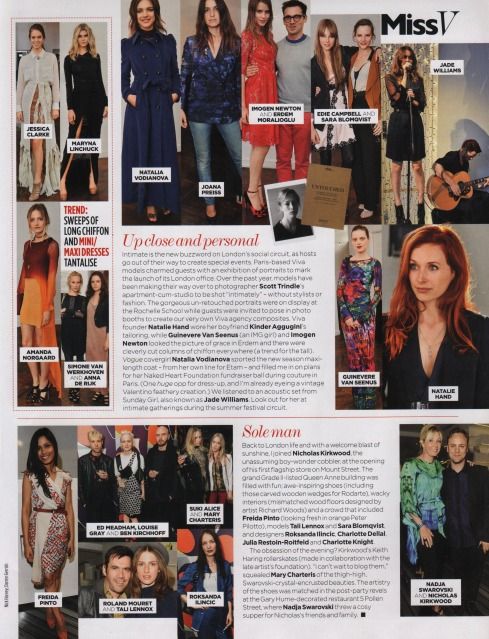 This week's installment of The Insider is courtesy of model agency Viva London's director Natalie Hand (the beautiful redhead in the middle right). Born in Nottingham, Hand moved to Paris nine years ago and started booking models for the Viva Paris modelling agency. Seven years later, she was bringing Viva to London and can be credited with building the then little known sister agency to the powerful booker it is today (just two years later), representing everyone from modelling giants Natalia Vodianova, Raquel Zimmermann and Victoria's Secret Angel Doutzen Kroes to young catwalk favourites Edie Campbell, Bette Franke and Kati Nescher.
---------
Current title: Director / Viva Model Management London
First job: My very first job was playing Marta in 'The Sound of Music' at the Nottingham Theatre Royal at the age of ten. I did get paid for it so it counts?!

My second first job was as a Saturday girl in WHSmiths when I was 16. I quite liked it, time went quickly when it was busy and I was a demon on the till.
Your first fashion inspiration: Agnetha, the blond singer in Abba. I loved her so much I just wanted to grow up and be her (She was my first crush at the age of 4!) Those silky jumpsuits, that blond flicky '70s hair, Chiquitita...
The moment you knew fashion was your future: I caught the tail end of the true 'Supermodel' era and I was totally intoxicated by their glamour. I loved them all, but particularly Christy T and Amber Valletta. At that time it was just something I couldn't get enough of, I read every single magazine, looked at every image of them as they came out. But I never, ever dreamed I would end up doing what I do now while I was studying for my A levels! It felt like they were on another planet - which if I'm honest at that time they probably were! Other than that, my next epiphany was when I began booking. I thrived on the speed of the fashion industry. I loved the way you could achieve results quickly and how exciting and inspiring things happened every day.
Any moments of doubt: I have a recurrent daydream which usually appears in moments of fatigued paralysis towards the end of Fashion Week. I see myself working in a bakery, pulling out perfect Hot Cross Buns from the oven in a tiny village in the countryside somewhere. Haha I wouldn't last more than half an hour in the real world (let alone the fact that my cooking is so bad I probably wouldn't even have got the job in the first place) but at these pressured, crazy moments the vision has its charms.
Career highlight so far: Moving to Paris to work at one of the most prestigious model agencies in the world. Seven years later moving back to London to set up my own agency and launch it with a beautifully haunting photographic exhibition. Every time I look around Viva London I feel proud- I see how we are building up something very special day by day, step by step.
Fashion world fodder (a favourite anecdote from your years in the trade): Lots and lots I could mention but if I have to choose one maybe it would be when Raquel (Zimmermann) and I went to see Lady Gaga and ended up being introduced to the Lady herself backstage by Nick Knight! We got completely tongue-tied. She asked us if we would like to have a photo taken with her. I have the cutest picture of Raquel looking completely shell-shocked!
Survival tips:
Determination and discipline
The desire to always go that extra mile